One of the best part about Z-Code is its large variety of systems you can follow and at the same time, be able to see exactly how are they performing on a 3 months basis. Basically, you can see on a chart how much money each system has made in the previous 3 months in this information could help sway you toward the system to essentially follow.
Below is the latest up to date top performing Automated Sports pick system for January 2015.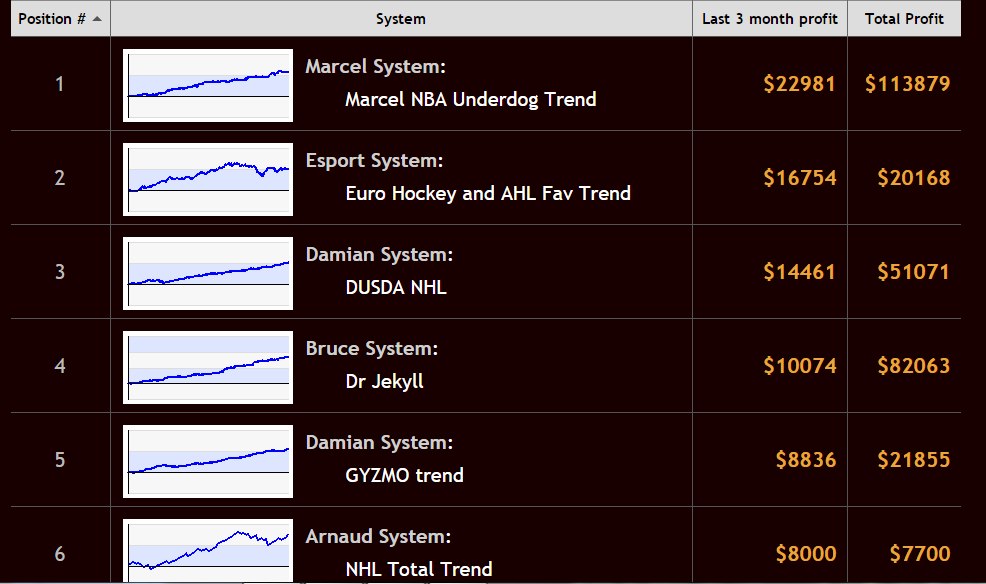 \
As you can see on the picture/chart above, the best performing system is currently the Marcel System: NBA Underdog Trend. Its profit total for the past 3 month was $22,981. That means if you had been following and taking this system's picks, you would had made $22,981. This system grand total is currently standing at $113879.
Number 2 on the chart above is the "Esport System: Euro Hockey and AHL Fav Trend." While this system made less than Marcel's NBA Underdog, it still managed a healthy $16,754 over just 3 months period. More than good enough if you ask me. Its grand total stands at $20168.
The picture below is the remaining top 10 systems and they're all in profit so choose wisely.

Below is the complete full portfolio for every single automated sports betting system on Z-Code.